Tips on Winter Camping for Beginners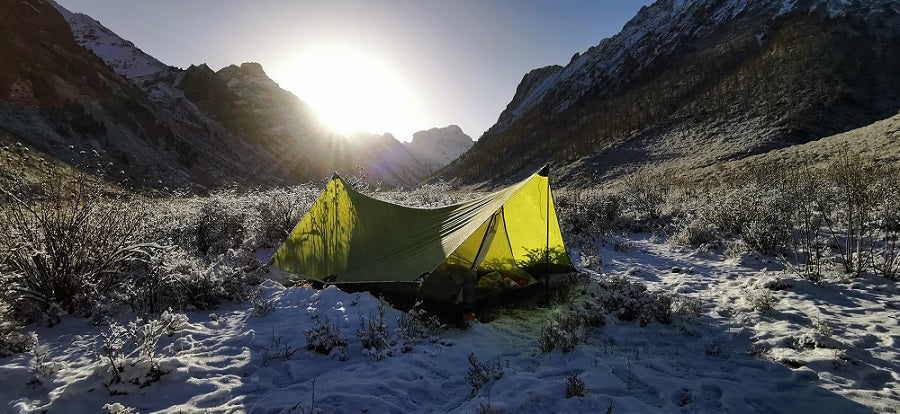 Talking about winter camping, what picture would occur in your mind? Unlike the summer season, winter camping brings a totally new part to your outdoor experience. You are far from the crowds, in a hushed tranquil world of white. What's more, you can feel the ice crack beneath you which never happened in summer. But the frostbite and hypothermia would catch you if you don't prepare fully for the extreme cold weather. When going into cold weather conditions it is your responsibility to have the proper knowledge, experience, and equipment to travel safely. And this blog would give you some tips on winter camping.
Start Your Camping Early Than Winter Season
If you are the first time to camp in winter, trying to start in autumn, when the weather is cool enough, maybe it will snow and you can adapt to the weather in advance.
Choose A Suitable Destination
For your first winter camping, choosing a place that you are familiar with or is closed to your house allows you to quit if you feel unwell under the cold weather or to provide supplies for yourself quickly.
Check The Weather Condition
Before your camping, you need to do overall research about the weather condition such as the wind, snow, rain even the temperature of day and night. Prepare enough clothes to keep yourself warm to prevent frostbite and hypothermia.  
Prepare Foods As Fully As Possible
Your body generates heat as it digests food, so if you're feeling cold, try eating some food. Before you go to bed, have a little snack to keep your metabolism going and keep a candy bar nearby if you get cold in the middle of the night. Also, you need to prepare food that is easy to reheat so that you can eat warm food at any time by using a tiny camp stove. A bottle of hot water is also a necessity to hold regardless you don't feel thirsty. Only enough calories in your body, can you keep safe and sound in the cold night.
Bring Right Clothes And Gear
Another important thing to keep your body warm is dressing in the right clothes. Wear layers, starting with underwear, followed by the insulating layer, and finished with a shell. You can get the detailed suggestion in this blog "What You Should Know Before Choosing A Hiking Jacket" and "How to Choose Hiking Pants". Remember to keep your clothes dry or they will be frozen under the temperature.
As for the equipment that you will use in camping varies from places and seasons. You need to prepare a tent which is suitable for 3 or 4 seasons. Wind or waterproof features can protect you from suffering from high winds or heavy snow.   
Consult Other Campers Or Local Experts
Asking for other campers who have camped in this place or local experts, they may give you some suggestions that they sum up from their camps or based on the local landform. Moreover, you can borrow gears from them instead of buying by yourself.
Pick A Proper Sheltered Place
A place is not only free of rocks, branches, and roots but picks a spot that's sheltered from the wind and free of avalanche danger, then set up your tent site by packing down the snow.
Bring Camping Survival Necessities
Some camping essentials would help you spend a happy and safe camping time. Here is the list of them:
map and compass -- for navigation
blinker -- prevent snow blindness
extra clothing -- for warm need
headlampor flashlight-- for illumination
first-aid supplies - for accidental injury
tools -- for repairing your gear
extra food and water -- for providing nutrition and moisture
When deciding to go to winter camping, you need to prepare carefully before setting out. Because you don't know what will happen during camping and make everything get ready would help you at any time.